B Baran
« Her milet xweyîyê alekê ye. Al nîşana milet û welat e. Tevayîya heyîna miletan di ala wan de civîyaye. Al namûs, rûmet û bextê miletan e. Zarowên her miletî ji bona bilindî û biqedirbûna ala xwe, jiberva xwe didin kûştin. Ala her miletî jê re buha ye. Di cejin û şahîneyan de qesir, xanî û kûçayan pê dixemilînin, di ber wêre diborin, silavan lê dikin, di rêveçûna leşgerî de divekin pêşiyê. Lê alên miletên dîl, wek ya miletê me, ji her der biderkirî, lihevtewandî li ser dilên zarowên wan de hilandî ne. Miletên dîl dixebitin xwînên xwe dirijênin ku biyaniyan ji welatên xwe biqewirînin û alên xwe li ser qalat û bajarên xwe ji nû ve daçikînin. Ala her miletî bi çend rengan û bi şiklekî din e. Ala kurdan, ji jor ber bi jêr ve, ser hev, sor, sipî û kesk e, di nava wê de roj diçirise. »
— Celadet Alî Bedirxan, Hawar, Hejmar 9 (30 Îlonê 1932)
Di tarîxê de Kurdan kengî al, an jî sembolek ku şûna alê bigre bikaranîne, em baş nizanin. Lê ew Kurdên ku ev serê 6-7 hezar salane ku li Kurdistanê, yanê li cihê xwe yê nuha dijîn, bêguman wan jî gelek dewlet û îmaret avakirine. ó wekî her dewlet û îmaretên qedîm, wan jî miheqqeq alek, an jî li şûna alê sembolek bikaranîne. Yanê ew dewletên wek Hatî (Hitit),  Mittanî, Hurrî, Subarî, Xaldî, Kardox, Kasî, Med û hîn gelekên din ku di tarîxê de rolek mezin lîstine, leşker çêkirine, bajar û medeniyet avakirine û li gor tarîxzanan jî bav û kalên Kurdan in, divê ku xwedî al bin. Herçend di lêkolînên dîrokîde tê dîtin ku van keyanî û împaratorîyê Kudan ROJA BI BASK û sîmgeya rojê wek temsîla xwedê bi pîrozî li ser qafik û kevir û şikeftan xêzkirine! Dîsa ew îmaretên Kurdan, wek şedadî, Merwanî, Botan, Soran, Erdelan, Bahdînan û hîn gelekên din, her çendî nîv serbixwe bûn jî, lê li mizgeftan bi navê mîrên wan xutbe dihatin xwendin, xwedî leşker û qesr û avahîyên mezin bûn. Ev îmaretên ku çendsed salan li Kurdistanê hukum kirin, gerek alek an semboleke wan a ku li şûna alê bi kar dianîn hebûya.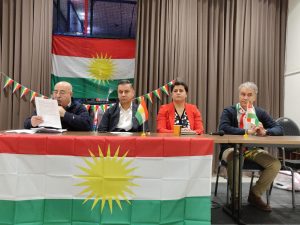 Mîr Bedirxan (1802-1868) ku seranserî Kurdistanê di bin hukmê wî de bû, xwedî pere û top û tifing bû. Li ser navê dewleta xwe pere derxistibû. Hê wê wextê têkilî bi Ewrûpayê re danîbû, ji bo birêvebirina dewleta xwe xwendevan şandibû Ewrûpayê. Li ser Gola Wanê ji bo parastin û tîcareta dewleta xwe kêştîyên şer û tîcaretê dabû çêkirinê. Gelo meriv dikare bibêje ku Mîr Bedirxanê ku hewqas tişt kirîye, bê al be. Bêguman na! Lê ji ber ku tu belgeyek ji dewra berê di destê me de tuneye, em nizanin alên wan çawa bûn.
Wek efsane her Kurd bi çîroka Kawa dizane. Kawa hesinger e. Pêştimalek wî heye. Piştî ku li hember Dehaq bi ser dikeve, pêştimala xwe jî wek al bi kar tîne. Her çendî efsane ye, lê têde al hatiye bi kar anîn.
Dîsa em dizanin ku mêtinkaran li ku derê sembolek, an jî nivîsek, belgeyek têkildarîya bi kurdan ve dîtine xirakirine, şewitandine. Her weha kesên ku çi belge, nivîs an sembolên bi kurdan ve têkildar helanî be û dijmin dîtibe,  zordarî û hovîtîyek mezin hanîye sere wan. Ji ber vê hovîtîyê kudan jî newêrîye tiştên xwe helînin û yên helanîne jî di şertên xirabde helanîne rêzîyane, xirabûne. Tenê dibin axê de hinek nivîs,xêzik û kolanên li ser kevir qafikan mane…

REWŞA KURDAN  Di Dema Osmanîyan û heta dawîya şerê dinê I an.
Her weha di destpêka sedsala bîstan de bi hawek taybet jî Ebdulhemîdê II wan li dijê gelên bindestên xwe polîtîkakî pir hişk dajo Bi giranî li dijê filan û bi taybet jî kurd jî jê para xwe digirin. Rojnama Kurdistan jî ji destpêkêve di nav sînorê Osmanîyan de, lê bi hawek xas li Kurdistanê hatîye qedexe kirin. Her çend di dema Osmanîyan de hebûna tu gelan û navê tû welatan û her weha yên kurdan jî qedexe nebû. Lê her diçû Tirkîtî xwurt dibû û bandora xwe di polîtîka dewletê de jî dida bicî kirin. Dijîtîyek û bêbawerîyek li hember gelê kurd hatîye nîşandan. Rewşenbîrên kurdan jî li dijê Sultan Evdilhemîd û zordarîtîya wî, dinav rêxistina Îtîhat û Terakî de cî digirtin û gelek aktîf kar dikirin. (Wek Ebdurrehman Bedirxan, Dr. Ebdula Cewdet, Dr. Îshaq Sukûtî û hwd.) Divê demê de heta meşrûtîyetê bêyî Kurdistan (ew jî qedexe buye) tu weşanên kurdan derneketine. Kurdistan bû, ew jî li Kurdistanê hatibû qedexe kirin.
(Bi meşrûtîyetê re (Sultan Reşad tê ser 1908) rewş bi carek ve tê guhertin.
JÎN (kovar) payiz 1918-1919 Istanbul Weşana fermî ya Komela Pêşketina Kurdistanê bûye. Berpirsîyar Memduh Selîm e. Di salek de 25 hejmar derketîye. "Jîn ne ji bona bi destxistina madî derdikeve. Armanca wê belavkirina zanînê ye, li ser jîyana kurda dîrokî, heqên wî yên neteweyî, bêjeya wî û rewşa wî ya civakî, ku ji sedsalên dirêj vir da hatine îhmal kirin" . Piştî ji mara 25 an (2,10,1919) biryar tê girtin ku JÎN bibe kovarek sîyasî. Jîn bi Kurdî (kurmancî û Soranî) û Tirkî derketîye. Berpirsîyar Hemzeyê Muqsî buye.
JÎN (Rojname) Istanbul.Rojnameya hefteyî ya sîyasî û îlmî ye, yekîtî û heqên neteweyî yên Kurdan diparêze. Berpirsîyar Hemzeyê Muqsî ye (Wanî). Ziman Kurdî û Tirkî ye.
KURDISTAN 1919 Istanbul, Kovarek sîyasî, civakî, edebî, îlmî ye, bi tirkî hefteyî ye. Sernivîskar Arwasîzade Muhemmed Şefûq e. Mudûr Seyîd Huseyîn e. 37 Hejmar derketine.
GAZÎ 1919 Diyarbekir
IRFAN (1923) Rojnameyek mehelîye paşê hatîye rawestan û (1,9,1959) dîsa dest bi weşana xwe kirîye. Qerekterek neteweyî pêre tune.
AGIRÎ 1929-1930 Agirî. Weşana Şoreşa Agirî ya serokatîya Îhsan Nûrî ye. Gelek hejmarên wê bi destan hatine nivisandin. Bi navê GAZÎYA WELAT rojnamek din jî derxistine. Ev her du Rojname jî nehênîne, ji alîyê şoreşê ve derketine.
(Avakirina Komara Tirkiyê "Komara Leşkerî ji alîyê leşkeran ve wek: Mustefa Paşa "Atatürk", Ismet Paşa, Fewzî Paşa, Kazim Paşa, Elî Fuad Paşa, Rafet Paşa, Fexredîn Paşa, Cafer Teyar Paşa, Asim Paşa û wd –M.Emîn Bozaslan-)
Dewleta Tirk ewçend zordarî û hovîtîya xwe li dijê Neteweya Kurd daye nîşandan ku qet rê nedaye ku ji 1920 an heta 1948 an qet tiştek weşanê ne bi kurdî û ne li ser kurdan dekeve.
(Berîya şerêdinê yekem serhildana Mele Selîm li derdora Bedlîsê.
Serhildana Şêxmehmûd piştî şerê dinê û Simkoyê Şikakî bandora wan li ser Nîrê Osmanî û Dewleta Tirk, Serhildana Koçgirî, Şêx Seîdê, Agirî, Dêrsim û têkçûna her serhildanek komkujîyên mezin pêkhatine.)
Di dawîya sala 1918 an de Kürdistan Tealî Cemîyetî (li Istanbul) hat ava kirin.Li Diyarbekir, Xarpêt, Bedlîs, Dêrsim beşên wê vebûn.
Lê di nav rewşenbîrên Kurd de lênêrînên cuda hebûn. Hinekan di nav dewleta Osmanî de federasyona neteweyan dixwestin, lê hinekan jî serxwebûna Kurdistanê diparastin. Li ser vê yekê piştre hinek ji Kurdistan Tealî Cemîyetî veqetîyan Komeleya Rêxistina Civakî (Teşkîlatî Îçtîmaîye Cemiyeti) avakirin û daxwaza serxwebûnê kirin.
Alaya Kurdistanê yekem ji aliyê Komeleya Rêxistina Civakî Teşkilat-ı İçtimaiye Cemiyeti, di sala 1920ê de hatî amadekirin; ew ala, bi reng û hawê xwe ve, wek Alaya Netewî hat qebûl kirin. Her weha Serokê Komeleyê Dr. Abdulla Cewdet daxwaznameya serxwebûnê dide Komîserîya Dewletan.
Mînak wê demê Komeleya Rêxistina Civakî li ser qerta huwiyetê a komelyê "zemîna wê kesk û li ortê jî rojek" alayek Kurdî çapkirine ku ev Qert, jî "Katibê Umûmî yê komelê Zeynelabidîn çêkirîye"
Li gor Zinnar Sîlopî (Qedrî Cemîl Paşa) (Doza Kurdistan)  ala Kurdî ya îroyîn ji alî Teşkîlati Îctîmaîye Cemiyetîyê hatîye tesbîtkirin ku şiklê wê weha ye; li jor rengê sor, di navînê de sipî, li ser sipî roj û li binî rengê kesk wek ala millî ya Kurdan tesbîtkirine û îlan kirine.
Di 1921-an de Mistefa Paşa Yamûlkî li gel hin ji muessisên Teşkîlatî Îctîmaiye Cemiyetî; Xelîl Rami Bedirxan, Kemal Fewzi, Mewlanzade Rifat dixwazin biçin Kurdistana Başûr, lê Îngiliz nahêlin ew derbas bin, tenê Mistefa Paşa Yamulkî ji ber ku ji Silêmanîyê ye, derbas dibe. Mistefa Paşa diçe Silêmaniyeyê û di hukumeta Kurdî ya ku di 10.10.1922-an de di bin hukumdarîya şêx Mahmûdê Berzencî de tê avakirin, dibe wezîrê perwerdekarîyê. Her wê demê ji alî şêx Mehmûd ve alek Kurdî hatibû qebûlkirin û pûl jî çapkiribûn. Di destê me de ev al jî tuneye ku em bibêjin şiklê wê çawa bû. Lê ji ber ku Mistefa Paşa Yamûlkî yek ji muessisên Teşkîlatî Îctîmaîye Cemîyetî ye ku şiklê ala Kurdî tesbît kirîye û di hukmata şêx Mehmûd de jî bûye wezîr, û berpisîyarê rojnama nîv resmî ya vê hukmatê; Bangî Kurdistan, ne dûr e ku ala Kurdî ya dewra şêx Mehmûd jî bi pêşniyara wî hatibe qebûlkirin.
Ronakbîr û siyasetvanên Kurdan yên ku di salên 1900-1928-an li Kurdistanê û li Îstenbolê di nav komele û cemiyetên Kurdan de karkirine an damezrandine, piraniya wan piştî salên 1925 û 1930-yî hatine li Sûriye bi cih bûne. Her wê wextê jî bi navê Xoybûnê rêxitinek avakirine. Ji weşan û kitêbên ku wê demê li ser navê Xoybûnê derketine tê fêm kirin ku her ew ala ku di 1920-de hatiye tesbîtkirin, ji alî Xoybûnê ve jî hatiye qebûl kirin.
Dîsa tê gotin ku di serîhildana Agrîyê de Îhsan Nûrî her ev ala Kurdî bi karanîye. Hetta rismek ku ji wê wextê meye, di gelek kovar û kitêban de hatiye belavkirin.
Mînak li ser qapaxa kitêba Sureyya Bedirxan -ku ew jî yek ji xebatkarên Xoybûnê bûye- ala Kurdî bi rengîn hatiye çapkirin û li binê alê jî bi îngilîzî "Flag of Kurdistan" (Ala Kurdistanê) hatiye nivîsîn. (binêre; Sureyya Bedirxan, The Case of Kurdistan Against Turkey, By authority of Hoyboon, Philadelphila, 1928)  
Ala Kurdî di 1932 -an de li ser herdû bergên Hawar, no: 11 (10 Çiriya Paşîn 1932) bi rengîn hatîye çapkirin. Rengên wê jî sor li jor, li navendê sipî û li binî jî kesk, di ortêde jî tavek 18 tîrêjî (an jî stêrkek 18 niçikî) heye. Celadet Bedirxan her di vê hejmarê de li ser mirina şêx Evdirrehmanê Garisî nivîsek nivîsîye û têde weha dibêje: 
"…Belê şêxê min, min ji te re kefenekî welê bijart ko hêj tu kelaş pê nehatîye pêçandin, min ji te re tirbeke welê koland ko hîn tu mirî neketinê.
Min kefenê te kir: Sor, sipî û kesk û zer, ala te, û min tu veşartî nav rûpelên Hawarê û li serê wê kêla te daçikand.
Kefenê te kefenek welê ye, rûjkê bêt, ji te vebit li ser qelat û bajarên te re li pêl bibit.
Tirba te tirbeke welê ye ko ne kêla wê bi birûskên ezmanî dişike, ne cax û dîwarên wî bi ba û bagerê hildiweşe, ne axa wê bi baran û lehîyê qul dibe û ji hev dikeve.
Tirba te kitêbek e, ko nifşên milletê me deste-desta bikin û her nifş ji nifşê din re heta paşîyê, hinda rûja qiyametê, ji hevdû re dê bispêrin.
Ev tirba te a abadîn e. Min eva ha ji bona te bijart û koland….." ("şêx Evdirrehmanê Garisî çû rehmetê", Hawar, No: 11(10.11.1932), r. 2-3)
Dîsa di Hawar, no: 5 (20 Tîrmeh 1932), r.4-an de Herekol Azîzan (Celadet Bedirxan) helbestek li ser ala Kurdî nivîsîye ku çend malik jê ev in:
Alê Kurdan
Ala Kurdan di nav rok
Çi bedew û bi heybet
Bi çar reng î, rengên te
Çi delal û çi xweşkok
Xêzek kesk û xêzek sor
Nav sipî û nîvek zer
keskesor e, bi roj e
Ev li jêr û ew li jor
Herekol Azîzan
b. Hawar, no: 5 (20 Tîrmeh 1932), r.4
Di Hawar, no: 8 (12 Îlon 1932), r. 7 de Dr. Kamûran Bedirxan jî li ser alê helbestek nivîsîye û di malikên pêşîn ên vê helbestê de ala Kurdan weha tarîf dike:
Ala Kurdan
Ronahiya dil û çav,
Diyarîya dê û bav
Pêsîra wê roj û tav
Spehitiya ax û av
Ala Kurdan ser be ser
Sor û gewr e kesk û zer.
Dr. Kamûran Alî Bedirxan
b. Dilê Kurên Min , Kitêbxana Hawarê, hejmar. 3, Şam, Çapxana Tereqqî, 1932, r. 25 û Hawar, no: 8 (12 Îlon 1932), r. 7
Nûredîn Osif (Nûreddîn Zaza) di Hawar, no:30 (1/7/1941), r.4-5 de bi navê Keskesor çîrokek nivîsîye. Di çîroka xwe de behsa dewra şêx Seîdê Pîran dike û qala dibistana xwe dike, paşê ku Kurd  (li Dara Hênê) bi ser dikevin û ala Tirka ji dîregê dadixînin û ala Kurdan hildidin jor ew jî li gel bavê xwe li ber derîyê serayê ye û paşê çîrok weha dom dike:
Li Mehabadê Alaya Kurdistanê, 1946 
Zinar Sîlopî (Qedrî Cemîl Paşa) derheqê Ala Kurdî ya Cumhurîyeta Mehabadê de weha dibêje: "Hukumeta Cumhurîyeta Mehabadê Ala Kurdîstanê ya ku di 1919-an de ji alî Teşkîlatî Îctîmaîye Cemîyetîyê ve hatibû tesbîtkirin girtin, lê li kêleka roja wê, rismê du simbilên genim û li pişt wê jî çiyayek û dareke çamê lê zêde kirin û bi guloverî jî li ser wê Dewletî Cumhurîyetî Kurdistan nivîsîn û ew wek ala Cumhurîyeta Mehabadê qebûl kirin"
Dîsa di hejmara 9. a rojnama Kurdistan a Cumhurîyeta Mehabadê de axaftina keçeke Kurd, Îşret Azmî ya li ser ala Kurdî hatiye belavkirin. Ji bo tarîfa ala Kurdî em çen rêzan ji wê axaftinê li jêrê dinivîsin:
"…Ey Ala Kurdistanê sê rengîn, ey nîşana bilindîya Kurdistanê!…Rengê te yê sor şahid e ku tu bi xwîna Kurdan hetiye hilgirtin, rengê te yê sipî nîşana dilpakîya Kurda ye, rengê te yê kesk jî delîla ciwanîya axa Kurdistanê ye……"
William Aegleton jî derheqê Ala Kurdî ya Mehabadê de weha nivîsîye: "Di Gulana 1944-an de rêxistina Komel, bi alîkarî û hevkarîya hevalbendên xwe yên li Iraqê, ala Kurdî ya milî hazir kirin. Ev al ku ji sê xetan pêkhatî bû, her xetek wê rengek bû. Li jorê sor, li ortê sipî, li jêr jî rengê kesk cih digirt. Bi vî awayî bi ters qulubandineke rengên ala Îranê, ala Kurdî hatibû çêkirin. Li ser alê roj -ku sembola Kurda ye- û li kêleka rojê du simbilên genim, li pişt wan jî çiyayek û qelemek hebû"
"…Serê sibeha meha Çileya Paşîn a 1946-an bû. Tav diçirisî, rojeke xweş bû….Ji gundên dorê gundî û serok eşîr hemî hatibûn Mehabadê. Meydana Çwarçirayê tijî bûbû. Caddeya ku ji herdû serîyên bajêr digihîşt Meydana Çarçirayê bi alên Kurdî û bi flamayên sor û sipî û kesk hatibûn xemilandin…"  Xwanê ye ku William herçend pirtûka Komara Mahabadê nivisîyê jî, haya wî ji dîroka alaya Kurdistanê tuneye û têkilîya wê bi alaya Îranê ve datîne! 
Destpêka şoreşa Mahabatê de di roja 17 Berçile 1945 an da şoreşgerên kurd êrîşê Saraya mêtinkaran li Mahabatê dikin û Alaya Rengîn li ser avayîya Dadgehê diçikînin. Ev dibe destpêka avakirina Komara Kurdistanê ku di 22 yê çileya 1946 ande li Meydana Çarçira bi coçek mezin ji alîyê Pêşewa Qazî Muhamed ve hat lidarxistin. 
Dema hêzên Sovyetê vekişîyan û Dewleta mîtinkara Farisan êrîş anî ser Komara Kurdistanê, Pêşewa Qazî çarenivîsa gel parve kir li Mahabatê ma hat girtin paşê bi rêya darvekirinê ket nav refê nemirên Kurdistanê… Lê Mele Mustefa Barzanî teslîm nebû vekişîya Kurdistana Başûr. Di vê demê de Pêşewa Qazî bi vate ya domandina Doza Kurdistanê Alayek Kurdistanê pêşkêşê Serok Barzanî dike û Doza Kurdistanê dispêre wî !
Hezar mixabin, dema ko alaya Kurdistanê tê rojevê, miletê kurd dixwaze ji alaya xwe re xwedî derkeve, buhayê bide alaya xwe û bilind bike, ji aliyê dewletên Iraqê, Îranê, Tirkiyeyê û Suriyeyê ve, ev helwesta kurdan li hemberî serwerî û desthilatdariya xwe dibînın. Di vê yekê de heqiyek  wan jî heye. Ji ber ku; desthilatdariya li van dewletan (nuha Iraq ji derve), desthilatdarîyeke meşrû nîne, desthilatdarîyeke otorîter, yek miletî ya ereb e, faris e, tirk e. Miletê kurd xwediyê desthilatdarî nîne. Yanî bi kurtî serkaniya helwesta van dewletan, sîstema kolonyalîst e. Azadî û serxwebûna kurdan, avabûnîya dewleta kurdistanê egerê dawîya desthilatîya dewletên wan yên kolonyalîst û hovaneye.
Hikumeta Herêma Kurdistanê (ku teke Hikumeta me ya fermi ye) jî, wê alaya ku di 1920ê de hatibû amade kirin, bi avakirina Parlamentoya Kurdistanê re, ji 1992 an ve  wek Alaya Kurdistanê qebûl kiriye û hildide. Parlamentoya Herêma Kurdistanê di 11-11-1999 an de Yasayek derxist ku 17 berçile ROJA ALAYA KURDISTANÊ têde hat dîyarkirin. Her weha hersal Roja ala ya Kurdistanê were pîrozkirin. Parlamentoya Kurdistanê di 2002an de pîvanên alê tesbît kiriye û li gor biryarê 21 tîrêjên rojê li ser alayê hene. Rengên ku li ser alaya Kurdistanê ne sor rengê şorêş, sedeqat û biryardarîyê, sipî aştî û rastîyê, kesk xwezî û jiyanê zer jî ronahîyê tîrêj balkêşîyê dîyar dike.
Her çend ji destpêkê ve li hemû sazî û dezgehên Hikûmeta Herêma Kurdistanê Ala Kurdistanê dihate bilindkirin. Lê Serokatiya Herêma Kurdistanê, di sala 2006ê de bi fermana jimare 60, bi awayeke fermî biryara bilindkirina Ala Kurdistanê li hemû sazî û dezgehên hikûmî derxist.
Ev Alaya Kurdistanê ye ku her kurdek welathez ji bona bi azadî li ser her bilindayîyek Kurdistanê rakirina wê û ji bona pîrozîya rûmeta wê amadeye cane xwe bide! 17-12-2018 Antwerpen
Merd Baran Boskan