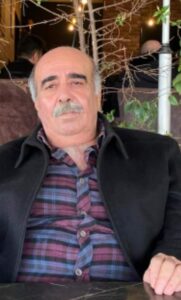 Me îro hevalê xwe yê hêja Bahadînê Qadê Milhim wenda kir!
Bahadînê Qado (Bahattin Çakar), îro (26.12.2022) jîyana xwe ji dest da û li gundê Dêrikê Siçana bi axê hat sipartin. Bi vê wendakirina giran ya bi êş û jan em gelek xemgîn bûn!
Bahatîn, ji binemala xwe de welatperwer û şoreşgêrekî doza Kurd û Kurdistan e. Mîna Bavê xwe Qadê Milhim û birê xwe Elî, endamekî PDKT/KUK bû. Me ew jî çend sal berê wenda kirin; ew her di bîr û dilê me dene; gora wan Behişt be! Wek malbat, hemû îmkan û jîyana xwe ji bo tekoşîna doza gelê Kurd pêşkêş kirin…
Bahadîn, hîn ji zarotîya xwe de çavê xwe di nava malek di nava xebata sîyasî û rêxistinî ya welatperwer de vekir. Di salê Lîse de wek endamekî çalak, beşdarî nav refên rêxistinî û tekoşîna sîyasî bû. Di avakirina Komela Ciwanên Demokratên Şoreşgêr ya bi PDKT/KUK ve girêdayî çalak cîh sitend û bu endamê komîteya wê. Di wê demê de, beşdarî gelek çalakî û xebatên perwerdê bû. Di salên 1970yan de, li Qoser, Dêrik û gundên wê, bê westan karê propaganda û rêxistinî kir. Di êrîşên li dijî PDKT/KUK, heta dawîyê, bi mêrxarsî li partî û hevalên xwe xwedî derket. Piştî cunta 12 Îlon 1980yî, hêzên dewletê, ji bo wî bigirin lê gerîyan, loma ew jî demekê li binxetê, bi hevalên xwe re li wir mêvan ma û dema firsenda wî çêbû vegerîya welatê xwe.
Ew tu demê ji hevalê xwe û ji tekoşîna netewî dûr neket. Wî bawerîya xwe bi doz û mafê gelê Kurd yê rewa anîbû. Loma wî herdem xwe wek tekoşerekî doza serxwebûn û yekîtîya Kurdistanê tanî. Li ku xebatek bi hêvî heba, bala wî dikişand û dixwest di nav de cîh bigire û alîkarî bike.
Em wek hevalê Bahadînê Qadê Milhim, sersaxîyê ji gelê Kurd, malbata wî, hemû heval û hogir û hezkirîyên wî re dixwazin; em êş û xema malbatê ji kûrîya dil ve par dikin!
Wê Bahadîn, mîna lehengekî doza Kurd û Kurdistan, di dilê me de bijî. Wê bi bawerî, tekoşîn û xebata xwe ya bê westan, di armanc û doza me de zindî be!
Oxir be hevalê rêya giran!
Oxir be hevalê hêja!
Tevgera Demokratîk a Kurdîstanê
(TDK-Tevger)