Romana Jan Dost, Kobanî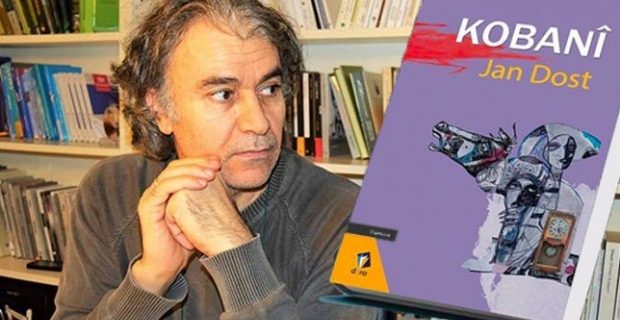 Evîn Berçem
Kîjan ji me dikare li hember navê Kobanî bê hest bimîne?
Carna bîranînên weha hene ku dibe xwînek ji êgir û di damaran de diherike. Bûyerên mezinin ew, xerabîya zaliman ya kollektîf e, li ser qurbanên bêhejmar de. Hinek xerabî henin ku, di bêdengiyê de rih dimire-dimire û vedije. Her car ji ya berê tundtir. Qewîn û tûj…
Gelo mirov dikare navekî li vê hestê deyne? Piştî ku romanek li ser vê tarûmarîya însanetîyê nivîsand, Jan Dost bi xwe jî heman maneya vê hestê dikûje û dibêje:
"Mirin. Na, ji mirinê jî wêdetir"…
Ma gelo mirovek tenê jî dikare, li hember vê şîroveyê derkeve?
Kobanî di sînga xwe de mirin hewand . Mirin ne tenê mirovan, mirin bi mirovên Kobanîyê re mirovahî jî brîndar kir.
Di vî şerî de kî biserket? Kê wenda kir? Encam li holê ye! Kobanî niha xerabeyek bê serî û binî ye. Axa sor mirovên xwe veşart û avahî weşîyan. Dar û berên ku nefes didan Kobaniyê, êdî wenda ne…Kobanî azad bû. Lê bajar ji serî heta binî sêwî ma.
Romana Kobanî rêwîtiyek e. Xwendevanan li paş xwe dizîvirîne û bi însanên ku di bin xerabeyên jiyana xwe de mane re, diqelibîne.
Ev roman ne tenê roman e. Di nav tarîxa edebîyata Kurdî de dokumenek li ser şerê Kurda û daişê, beşek ji biyografiya nivîskar, romaneke psîkolojîk û elegiyek bi hêsir e ku di nocturneya şevên Kurda de dibe sonetek… Bi her rêzên xwe rûpela tariyê diqetîne. Erê, elegiya Kurda ye Kobanî…
Jan Dost, di vê romanê de ji berxwedan û şerê zêdetir li ser bandorên şer, qedera Kobaniyê, xanî, kolan û heta ajalan sekinîye. Hestê mirovan, derûniyên wan û encama qedera Kobanîyê.
Nivîskar bi forma "ez" ji rûpela pêşiyê heta dawiyê di şerîteke sor de me li cem xwe dihêle. Di vê derê de beşek ji biyografiya Dost li ber me ye, lê ev biyografî ji sedema mijara romanê û şerê aktûel, ji biyografiyê wêdetir mijareke bi serê xwe ye. Muhasebeyeke derûnî û wênesaziyeke zindî. Rûbîrû hatina bi rastîya xwe re me li ser demê siwar dike û derdixe rêwîtîyê.
Di her tekstê de, roman be, çîrok be, ceribandin yan jî helbest be vegotarek û nivîskarek heye. Divê vegotara romanê û nivîskarê romanê ji hev bê veqetandin. Gava ku xwendevan nivîskarê* romanê û vegotara di romanê de tevlîhev bike; qelsiyek derdikeve. Herçiqes nivîskar biyografiyek nivîsandi be jî; sînorek di navbêna nivîskarê fizîkî û vegotara subjektîf heye. Nivîskar, gava ku romanê diqedîne, êdî ew jî dibe xwendevanekî romana xwe. Gava em ji vê perspektîfê bi paralel li beşa "biyografîk" mêyze bikin, stîla psîkolojîk bêtir tê fêmkirin.
Êdî nivîskarê romanê Jan Dost tune ye di vir de. Bi tenê vegotarek heye û trajedyayek bêhempa… Em di sînorê li ser rastîya mirovekî (nivîskar) de xeyala zanistî û realîteyê bi hev re dijîn. Gava ku trajedî li aliyekî bimîne, tahma stîleke psîkolojîya mirovî jî bi serkeftî hatîye nivîsandin.
Mijara dûyemîn dîroka malbata Hecî Mislimê Mihacir e. Her endamên malbatê bi serê xwe karakterek e. Mîna ku pêlek li ber bahozê keve, yek bi yek di vî şerî de dibin qurban.
Bavê Hecî Mislimè Mihacir, Hemziravê Mihacir bi eslê xwe ji Bakûrê Kurdistanê ye. Lê herçiqas navê mihacirêyê "mîna toqa lanetê" bi hustuyê malbatê ve zeliqî be jî, ew êdî Kobanî ne. Malbateke bi motîfên civaka kurdî; ol, adet, hezkirin, pevçûn. Malbateke qelabalix û bi hestên germ.
Lê bi şerê daîşê re malbat dibe xerabeyek û di bin neheqîya dîrokê de dimîne.
Her yek bi aliyekî ve diweşin û her yek li
qedereke zalim diqelibin. Rewşena şanzdeh salî ku delaliya malê ye, dibe gerîlla û bi destê daîşiyên hov tê şehîd kirin. Baranê ku xwedî karaktereke herî rengîn e û bi riheke azad dijî, li bextewarîya jîyanê digere, piçek hûnermend, piçek kêyfçî û evîndar e. Bahoza zilma şer, ji nişkê ve wî davêje destê zebaniyên daişê û celladîya vê sedsalê, heman xeyalên wî bi canê wî re dikûjin û Baran şehîd dikeve…
"Çavên Baran bi ezmanekî şîn û lal ketin. Ezmanekî vala ku tenê li firehbûn û bêdawîbûna xwe difikirî. Deng ji dinyayê qut bûbû. Tekbîrekî ew bêdengiya giran birrî" (Kobanî rûpel 198).
Qedera Hemê, Metîn, Mistefa, Lewend, Xecê û dê/bav. Mêrê Xecê. Hezkirê Rewşê. Nevî, bûk.
Pêlên deryaya ku penaberan dadiqurtîne… Dûayên jinên Ezîdîyan li ber sînorê mirin û jiyanê li deryaya Egeyê de.
Qempa mihaciran li Pirsûsê. Sînorê Serxet û Binxetê. Şerê ku mirovan dikûje û xizan dike.. Mirina wan, dibe nanê bê wijdanan! Dîmenên bêwar û neçarîya wan, dibe selfie-kişandin ji bo parvekirinên medyaya civakî.
Mijareke balkêş jî karakterê Ziyadê endamê daîşê ye. Ziyadê Tunisî, zaroktiyekî tarûmar derbas kiriye û dibe endamê daîşê. Ew jî mîna her daîşîyan bi hêvîya dewleteke islamî dikûje! Çiye hêvî û bendewarîya wan? Civakeke dîstopiya îslamî ku zora xwe li ser tune kirina kurda datîne. Zêde hûrgilî tune ye di vir de jî. Lê mîna her rêxistinên fanatîk û terîqet, ew jî xwedî zaroktiyeke dijwar e. Bi derûnîya xwe yî tarûmar û îsyankar dibe celladek. Bi tesadûfekê re xwe li mehela seyda dibîne û ev yek dibe sûrprîzeke mîna erdhêjê jê re.
Berî ku hişmendîya me bi aliyên mexdûr re empatî his bike; bi awayeke sosyo-psîkolojîk neynikê li ser rastîya Ziyadê Tûnisî tê girtin. Xwendevan bi hêrs dibe, xemgîn dibe; hestên nefret û hezkirin wenda dibin û li dîmenên kesayetîya Ziyad temaşe dike. Di vir de hostetîyek heye. Hoste (Nivîskar) perdeya perspektîfa hişmendîya me diqulipîne û berî ku hestên empatîyê xûya bibe, me li rastiyê diqelibîne û em dibînin bê çawa Ziyadê Tunisî di nav poşmaniyê de digevize, dilê wî diguvêşe û fermana dawîanîna xwe bi destê xwe dide.
Gelo yên dî, yanî aliyê qurban bê guneh in?
Muhasebeyek bê hemdî xwe derdikeve pêşberî me. Nakokîyên di nav îdeolojiya alîyên sîyaseta ku gerîlla û pêşmerge girêdayîne, hukmên li ser hev ku êdî bûne ezberek; carna jî nezaniya li ser naveroka vî ezberî. Lê di vir de serok û rêber xûya nabin, eşqa gerîlla û pêşmerge li ser ax û miletê xwe hene. Hesteke ku herî pak maye û ji bo armanca vê eşqê jîyana xwe didin.
Sekinandina nivîskar Jan Dost, heqê nasnameya xwe ya nivîskariyê dide. Ji ber ku di Kobanî de jî dîsa wêrek û dîsa li cem gelê xwe ye. Herçiqes ewî bi xwe nasnameya kurdî, li pêş nivîskarîya xwe deyne jî, ev yek wî dike yek ji nivîskarên cîhanê ku pênûsa xwe ji bo hûmanîzm, însanetî û demokrasiyê bikar tînin. Li cem gelê xwe ne. Îroj nivîskarên mîna Jan Dost gelek rexne distînin, dê bistînin jî. Ji ber ku ew di dema herî dijwar de bi helwest in, lê nivîskarîya wan encax piştî 20-30 salî bê fêm kirin.
Lê dîsa jî, Jan dost bi hostetî, di romana Kobanî de tu alî negirtîye. Bi kurt û kurmancî, em dikarin bibêjin ku Kobanî ne romaneke siyasî, lê romaneke dîrokî ye. Dîroka ku di nêzî me de (ne)bihûrî.
Stîla Jan Dost
Stîlek taybet heye di vê romanê de.* Rexneya li civakê, li sîsteman û şerê ku masûman dikûje bi sê perspektîfên paralel tê vegotin. Lê rexne nayê ziman, ew neynikeke di destê karakterên romanê. Xwendevan çîrok dixwîne û sedeman bi xwe tespît dike. Herweha; nivîskar dinivîse, karakter rê nîşan didin û xwendevan rave dike. Di novelên Çexov de fînala mijarê/çîrokê tune ye û xwendevan bi dilê xwe dawiyek jê re xeyal dike. Di romana Dost de jî bûyer diqewimin, karakter bûyerê dijîn, lê sedema bûyeran jî xwendevan bi xwe analîz dike. Ev stîleke nû û girîng e di edebiyata kurdî ya modern de.
Taybetmendiyeke din jî, biyografîya nivîskar e. Di roman û helbestên xwe de yan rasterast (mîna di romana Kobanî de) yan jî di paş rêzan de, sîya nivîskar herdem amade ye. Lê ev berhevkirin bila bimîne heta analîzek li ser nivîskar bi xwe. Yên ku nivîs û berhemên Jan Dost ji nêz ve dişopînin, ji xwe ev yek ne xerîb e ji bo wan. Nivîskarê Emerîkî (cihû) Paul Auster jî herdem di berhemên xwe de amade ye, yan rasterast, yan jî bi awayeke sûbjektîf. Ev yek jî taybetmendîyên Auster e di berhemên xwe de.
Jan Dost bi xwe weha dibêje, li ser stîla nivîsandina xwe di romana Kobanî de:
"Qet ez li stîla nivîsê nafikirîm, ez dizanim hêzek nediyar dihêle bi vî awayî yan wî awayî binivîsim. Kobanî bi awayekî din nedihat nivîsandin, divê ez jî kesek ji kesên romanê bama, her wekî ku ez yek ji xelkên Kobaniyê me û li wir ji dayik bûme".
Mijar û bûyera Kobanî berbiçav e, lê gava ku ji perspektîfa edebiyatê bê meyze kirin, aksîyon herdem zindî ye û bi nefesekê tê xwendin. Rûpel bi ser hev de diqulipin. Zimanekî herikbar û dewlemend ya romanê heye. Devoka Kobanî rengeke cûda daye romanê. Zimanê vegotinê bi kurdiya zelal hatiye nivîsîn, lê diyaloga Kobanîyan bi devoka xwe. Ev teknîk jî ji xwe gelek tê bikar anîn di edebiyatê de. Mînakek, Orhan Kemalê nivîskarê tirk e. Ew jî gelek caran devoka Çukurovayê bikar anîye.
Roman, bi struktura xwe ya ku jiyanê bê alegorî dramatîze dike û herikbarîya xwe ya bi hêz, xwendevan li xwe asê dike. Êş tê vegotin, lê nivîsandina êşa derûniyê zehmet e. Helbet tevlihevî û hejandinên derûniyê gelek hate nivîsandin. Lê gava mijar êşa derûniyê be û tu wêneya vê êşê li ber çavê xwendevan de karibe saz bike, wî çaxî tu nivîsandina mirovan de serkeftî ye.
Seeta dayikê sembola sereke ye di romanê de. Seetek û demek. Demek sekinî. Mîna mirinê. Mîna ku dem bi sîlûeta saetê ji destê nivîskar biherike, bihelle… Mîna tabloyên S.Dalî.
Çi bi wê saetê hat gelo?
":Seeta diya min, min berî demekê ji hemmûdê xwest ku bigihîne Hewlêrê, bi awayekî gelekî dijwar ew seet ji Kobaniyê derbasî Hewlêrê bû, du mehan li ser sînor ma, kesekî ku ew bibira nebû, li Dêrikê li malekê ma heta hin camêran seet gihandin Hewlêrê. Lê êdî blokada û dorpêça Kurdistan û balafirxaneyan lidar ket ez nikarim xwe bigihînim wê.. ez li hêviyê me kur ê vebe, ez jî herim bînim, mîna ku ezê herim termê dayika xwe bînim".
Helbestvanîya nivîskar, stîleke ku bi metaforan ava kirî û tahmeke cûda daye romanê. Gava rêwîtîya nivîskar di rûhîyeta xwe de dipeyive, ev yek hesteke rapsodî dide. Û helbet elegiyeke bênav distirê li ser mezelan de, di nav mezelan de… Bêdengîyek û şînek e ev.
Jan Dost di hevpeyvînekê xwe de dibêje ku,"Kobanî bi şerê daîşê re kete di nav tuneleke tarî", û ew jî bi wan re. Bi teqîna bombeyan û şehîdbûna mirovên bêhejmar, ji wir derbas bûn. Gelo nivîskar bi xwe ji wir derket?
"Niştecihên Kobaniyê di wê tunelê re derbas bûn, tunela min bêtir derûnî ye, ez hîn tê de me".
Hinek nivîsên din: